This month at Sefton - a view from the bar
It´s been a funny old month at Sefton, with cricket played under leaden skies and the knowledge that the Club Skipper received a thrashing from - in his own words - ´a small blonde boy´ while enjoying himself at the city´s foremost fleapit.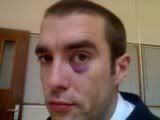 Also this month we´ve two titanic inter-club struggles. The first of which saw the Sunday team crushed by a rampant 3rds and 4ths XI.
Pete Lancaster, Ollie Shears, James Pearce and Jay Harrison made runs for the Sunday VI but the moment of the day came with a stunning catch at short cover to remove Scott Isaacs. Cheers Scotty! I was dining out on that one for weeks!
Oh, and Matty Pownall took a hat-trick, but it was his fourth, so he wasn´t that bothered.
The 3rds Versus 4ths game was a game of four players, with Vinny Abel and Jonny Woodsmith hitting superb centuries, though one player seemed to believe that smashing 105 made you a jammy ****!
Robin Brown and James Pearce took wickets, with the 3rds skipper nearly putting his back out to remove the former.
Other cricket news
. Ben Moore has extended his lead in the homo-erotic "Who can hit the most sixes?" stakes. Apparently he hit 167* last month too.
. Speaking of tons young Dan Kelly scored 101* in a Juniors game against Whitefield, taking only 61 balls - part of a great season on the pitch for the whole Kelly clan. Congrats mate!
. Poz was awarded bowler of the month in the LDCC for May. Well done Pozzer!
. Robbie Houghton is challenging Dave ´Poz´ Poskitt in the Players League.
. The 1s, after a slow start have taken four wins from the last five games.
. Ben Moore was again humiliated on television as Sky followed the hapless skipper taking three shots to get past the Ladies´ Tee during the Sefton golf day.
. The Sixes tournament takes place this sunday with one and a half Sefton teams taking part. There´s still places to fill! Contact me if you want to take part!
. Contact Briggsy if you´re up for a midweek game on wednesday afternoons!
Big Jugs
Firsts
D Baird 82
B Moore 167 (Jammy ****!)
P Calrow 56
R Houghton 82 not out
J Jackson 88,
G Cashin 5-20
J Jackson 57,
R Houghton 5-47
Twos
N Cockrell 66
N Cockrell 89, P Squires 55
P Kelly 5-63
I Seabury 59
Threes
O Shears 63
M Child 54 not out
S Isaac 71
I Kelly 66
O Shears 69
J Woodsmith 105 not out
J Pearce 5-29
Fours
V Abel 80 not out
R Surtees 55
V Abel 105
Come on 4s! We can do better than this!
Sundays
No results from the Sundays since last time. Oi, Hazo, get those September games called off now, it´ll probably rain!
The Fourth Team Video blog
The first (and probably last) in an irregular series shot at Northern. Anyone with any non X-rated footage (ruling out Boynsy for a start) should upload to Youtube and send me the code for next time.
Nicknames
Several amusing nicknames are floating around the club at the moment, apart from the usual Bairdys and Kels.
See if you can identify the following:
. Mike Skill
. Chimp
. 37%
. The Geordie Express
. The Bomb
. VBO
Answers next month. Anyone identifying all nicknames will win a bag of crisps, which Chris Wylie will kindly be paying for.
Overheard:
While discussing the batting capabilities of Phil Calrow:
"Is he any good? Depends which Chimp turns up."
This month´s most amusing bowling figures:
3-0-40-0
Take a bow, Mark Boynes
And finally...
Idiot!
Send any amusing or actually important news to me for next month´s nonsense. Robin Brown